Vacuum Formed Products
You might not be surprised to learn that vacuum formed products are all around us. Their versatility means they have a place from bakeries to retail and display. This simplified and efficient way of vacuum forming allows for complex shapes and components to be mass produced. It's an extremely cost-effective and time-saving solution for most industries.
The in-house design team at Plastics By Design have a wealth of expertise and experience in the latest design software. From the initial consultation, we will work closely with you to understand your requirements. Do you need to protect a product? Or perhaps you need a practical solution to displaying your products on the shelf. Plastics By Design have a large design and manufacturing capability to handle projects of any size confidently.
Throughout the project, you will receive timely updates and a 3D photo-rendering of the packaging with your product, so you have a clear vision of the finished form. We work closely with local tool-making companies to offer a quick turnaround of prototypes and tooling. If required, we can advise on which grade of plastic to be most suitable and provide an accurate quote of the turnaround time and total costs.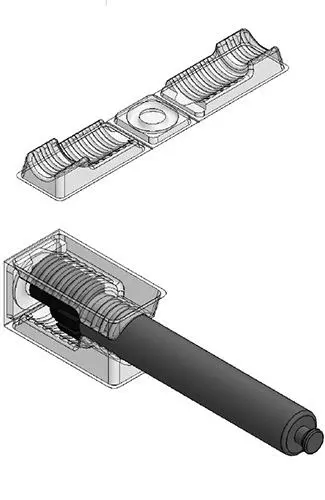 What is Vacuum Forming?
If you conduct a quick search for "what is vacuum forming?", there are often many technical terms being used such as "thermoplastics" and grades of plastic thrown in for good measure. Vacuum forming is a procedure in plastic moulding and is a fairly straightforward process.
Vacuum Forming Process
A prototype mould is first carefully formed, usually by resin or another heat-resistant material. A sheet of plastic is placed above the mould with a reasonable distance- the thickness and type of plastic vary according to the application of the component. The plastic is heated to become flexible; then the air is sucked out of the heater to form a vacuum and force the flexible plastic to shape over the mould. When the plastic cools, it is removed from the cavity and the product is formed. Depending on the machine capabilities, this cycle can take as little as seconds, especially if thinner sheets of material are used.
At Plastics By Design we have a range of specialised pressure and vacuum forming machines which allows us to handle projects of all sizes. Clients can create a completely bespoke design and/or add personal touches to a existing design. This is an excellent way to incorporate company logos and marketing, if necessary.
Vacuum Formed Trays
---
Vacuum formed trays can be commonly found in our daily lives. They may be used as standalone packaging, such as bakery trays, or as part of protective packaging in retail and industrial products. Transit trays are one of the integral components in packaging. Lightweight and robust, they help to protect the product during transit and can often be used to assist in marketing.
Transit trays are often self-stacking which is a welcoming feature for the space-conscious. You can find vacuum formed trays in surprising industries such as pharmaceutical and automotive due to their ability to cushion and protect precise instruments. Depending on the material used, they can be re-useable. Not only is this environmentally friendly, but it can also prove to be a cost-effective solution in the long run.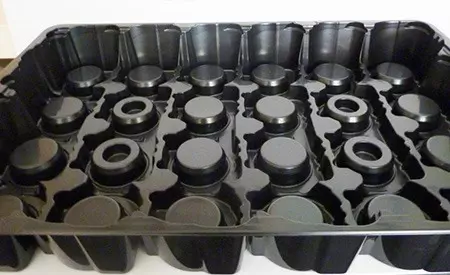 The transit trays and vacuum formed products from Plastics By Design are compliant with BSI-ISO 22000 for food use. We are additionally compliant with BSI-ISO 14001 for our Environmental Management procedures.
Bespoke Vacuum Forming
Over the years, Plastics By Design have worked with some of the largest blue-chip corporations in the UK. On occasions, international companies to provide an efficient and bespoke plastic moulding solution. On the other end of the scale, we have also produced custom plastic moulded pieces for private customers, such as design components for a unique product. If you have an idea, our experienced designers can work with you to turn it into a reality.
Vacuum Forming Advantages
We pride ourselves on offering a high-quality standard of work and our attention to detail. We have established excellent working relationships with local toolmakers to complement our time-efficient plastic moulding solutions. The application for large vacuum formed products resides mostly in the general industrial, electronics, retail and automotive market, being lightweight and portable. The process can also produce engineering components. Plastics By Design are experienced in all types of procedures in plastic mouldings, including injection moulding and thermoforming.
Protective Packaging Solutions
With over 30 years experience, Plastics By Design has grown to be one of the leading suppliers of bespoke protective packaging solutions. These include transit trays which can be tailored to your specifications and thick-sheet components which can be used in assembly.
Along with our expert in-house designers, we additionally have the facility for assembling your product and manage the project to ensure it conforms to your budget and time frame. We excel in proving a one-stop solution to maximise the potential of our customer's products.
What is Protective Packaging?
Protective packaging is as the name suggests, packaging which is designed specifically to protect the product from the production line to the end consumer. There are many forms of protective packaging- bubble wrap may be one which is most recognised. However, they are not a cost-effective packaging solution for large-scale production, nor the most effective.
Plastics By Design have a lot of options for protective packaging designs which apply to a variety of products. This includes our range of bakery trays and packs and standard display packs. These template designs can be altered and tailored to the specification of your product. Alternatively, if you require a unique protective packaging for your product, all of our designers are continuously trained to provide the most efficient design to match your requirements.
Transit Packaging Wiltshire
---
Plastics By Design specialities lie in offering our customers an efficient transit packaging solution regardless of the size and complexity of the project. We are based in Wiltshire and offer our services throughout the UK.
We treat each project with equal urgency and care, ensuring that you receive the best possible service and the most suitable product at the best price.
How Does Vacuum Forming Work

One of the main benefits of plastic transit packaging is that it is environmentally-friendly. Depending on the grade of material and the design, some of our transit trays are returnable to extend their working life with cost-effective bonuses. At the end of their working life, they can be recycled and used in new products instead of contributing to landfill. Plastics By Design are proud to be BSI-ISO 14001 compliant for our Environmental Management system.
Get In Touch
If you would like find out more about our vacuum formed and pressure formed products, then get in touch using the information below: