Types of Plastic Protective Packaging

The use of protective packaging can be dated back as far as when material transport was necessary- including antique wooden boxes and clay pots. Since then, they have evolved along with the development of technology, especially since the development of plastic technology a little over a century ago.

The versatile application of plastic meant that they quickly revolutionised the protective packaging industry. Despite the recent media, there are many advantages to plastic protective packaging. Plastics By Design are specialists in creating a bespoke protecting packaging solution for your products. Our experienced designers will assess your product and work closely with you to create a unique design for your product.
Box Inserts
Because of their plasticity, plastic can be moulded to any shape and design. Box inserts are commonly used in the packaging of retail items such as small parts. Box inserts are also hugely beneficial to the environment as are lightweight and durable, cost less resources to make and transport and as with all of the products made by Plastics By Design, can be recycled to reclaim energy rather than going to landfill.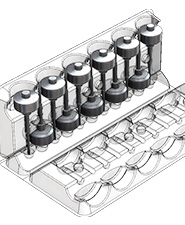 Clamshell Packaging
As the name suggests, these type of packaging is typically hinged on one side, resembling a clam when open. They are widely used in multiple industries, from standard sized trays for baked goods to bespoke designs for a specific product. Clamshell packaging offers a higher degree of protection to the product than blister packs. They are popular with the mechanical industry for transporting or retailing electrical and mechanical parts.
Transit Trays
Transit trays are commonly used to protect a product in while it's being transported, often used by the manufacturing industry. They are more durable than retail box inserts, or those containing baked goods. Transit trays are almost always designed bespoke to fit the product and provide the maximum amount of protection to any fragile and delicate parts. Unlike box inserts which are almost always disposed of by the consumer, transit trays have a high chance of being returned and reused by the recipient. This contributes to maximising their efficiency and reducing the impact to the environment.
Plastics By Design care about the environment. Almost all of our plastic protective packaging is made from PET or RPET- both fully recyclable, with the latter being already recycled at least once. If you would like more information on how we minimise our impact on the environment, please contact us via 01380827022 or use the form to forward your query.